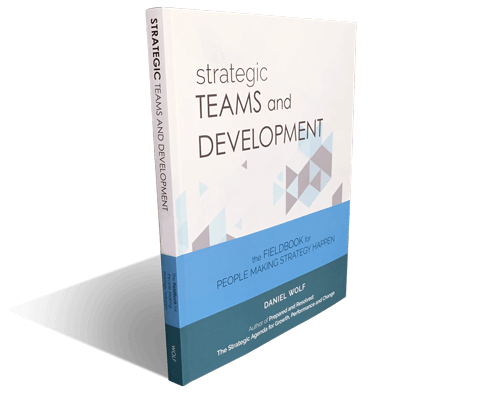 STRATEGIC TEAMS – THE FUTURE FORCE IN HIGH PERFORMANCE ORGANIZATIONS, AND THE ENGINES OF NEW VALUE CREATION
The FieldBook for People Making Strategy Happen
Practical and Relevant to Collaborative Efforts That Drive Growth, Performance and Change.

Strategic Teams and Development provides an unmatched platform and working blueprint for strategic leadership in organizations of every shape and form.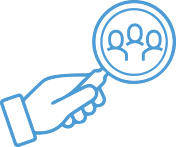 This book explores the natural challenges of strategy direction, integration and execution from a practical team perspective. It defines the critical factors in talent that transform Strategic Teams into value-creating assets.

Leaders at every level will discover the ready application of this essential material for advancing the work of their teams, and the confidence of their organizations.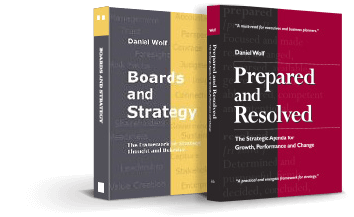 Dan is also the author of Prepared and Resolved, which shares a powerful framework for strategy engagement, and Boards and Strategy, which shares a set of perspectives on executive and board interactions on strategy in general. He also serves on several advisory and governance boards.
"… Wolf has brought together the key themes of strategy direction, integration and execution in a terrific framework for leadership …"
– Sean Healy
Amazon
"… effective collaboration depends on individuals and teams who bring together their expertise, perspective, energy and experience …"
– Emma Schwartz
Medical Center of the Americas
"… a complete and dynamic view of the range of talent that drives multifunctional teams to perform and adapt …"
– Chris Jones
Adobe
Everything starts with a Strategic Agenda that frames the everyday thought and behavior of the organization. Through a design-driven framework of Talent Blocks and Beams, Strategic Teams, at every level of the organization, engage a Cultural Agenda that informs and inspires.
"… Teams are essential when it comes to making strategy happen …This book casts a comprehensive set of lenses … on the success of teams …"
– Roland Deiser
Center for the Future of Organization, Drucker School of Management
"… This FieldBook provides a practical but elegant guide to developing high-performing teams that drive effective outcomes."
– Dr. Helene Gayle
President & CEO, The Chicago Community Trust
"… financial capital and intellectual capital, matched with human capital … this book resets the pieces of the puzzle with strategy, talent and culture in a practical manner."
– David Bookbinder
Author: The New ROI: Return on Individuals, Advisor
"… Strategic Teams and Development is a very well-crafted framework for guiding thoughtful, motivated leaders over the strategic and cultural journey of business evolution …"
– Dr. Marshall Goldsmith
Bestselling Author on Leadership and Management, Executive Advisor and Coach to Global Executives
Contact Us for Further Insights